Commemorate a Milestone With Custom Balloon Decorations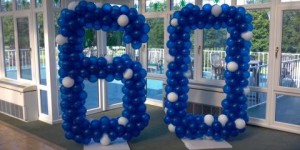 Balloon decorations can add a one-of-a-kind flair to your special occasion; whether you're celebrating a birthday milestone, a company anniversary, or a stylish baby shower or gender reveal party. Get the party started with Life O' The Party or Balloonacy, event planning companies and party purveyors supplying big-name clients like MTV, Chase Bank, Sony and even the White House with high-quality provisions for special occasions.
Specialty balloons are an excellent way to enliven any gathering, and Life O' The Party or Balloonacy specialize in breath-taking, custom-made designs. If you have a milestone coming up in the new year, let Life O' The Party or Balloonacy design a custom sculpture for you as pictured above. Sculptures can take on many forms, like numbers, so you can commemorate a 60th birthday, a 25th wedding anniversary or even usher in 2015 with a special New Year's Eve creation.
Custom balloon decorations from Life O' The Party and Balloonacy come in many shapes, sizes and budgets to suit your party's unique needs. Small sculptures can serve as festive centerpieces, while balloon columns can flank a doorway to mark the entrance to a party, or choose balloon arches to create a striking dance floor. No matter what you choose, make your party a photogenic and fantastic occasion that your guests will never forget!
Entrust your event planning needs to Life O' The Party or Balloonacy, established, professional companies proudly serving corporate and private events throughout New York and New Jersey for nearly 35 years. For more information, call Life O' The Party at  (201) 342-2121 or give a ring to Balloonacy at 212-608-5335.