It's Official: Balloons For The Macy's Thanksgiving Day Parade Will Be Supplied by Life O' The Party, Again!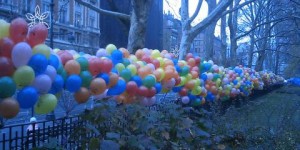 For the 12th consecutive year Life O' The Party will be supplying party balloons for the world famous Macy's Thanksgiving Day Parade. This huge honor is a testament to the company's expertise in balloons! In the past 11 years Life O' The Party has made an impression with their incredible balloon decorations and displays. A spectacle this big needs the highest quality balloons and the most experienced party supplier, which is why Life O' The Party continues to be chosen year after year.
The annual parade is a bigger event than you might think. For a whole month leading up to Thanksgiving, there are nine different events going on. Events have already begun and Life O' The Party is already decorating for them.
First, the parade floats need to rehearse. They march around the Citi Field parking lot to practice. There is also the Macy's Rollie Awards that takes place at Pier 40 in the city. Then, there's inflation day! On the day before Thanksgiving, spectators are invited to the Museum of Natural History to watch parade floats be inflated for the next day's festivities.
Finally, on Thanksgiving Day, Life O' The Party places balloons at the starting line, along the parade route, and in Herald Square during the night and early morning hours before the parade begins. Plus, they also decorate Macy's locations with custom branded balloons in the stores.
Don't miss the Macy's Thanksgiving Day Parade this year, featuring balloons by Life O' The Party. For your next big event, trust the party supplies experts for the best balloon decorations. For more information, visit them online or call (201) 342-2121.