Make Every Day a Party With Event Planning & Party Rental Services From Life O' The Party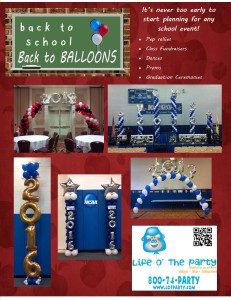 Fall is in the air, and it's time to celebrate this wonderful season of homecomings! From the first school assembly of the year and all the way through prom, call Life O' The Party for an unmatched inventory of everything you need to start your event off just right. You do the partying and Life O' The Party will provide entertainers, centerpieces, DJs, and balloon displays to ensure everyone in Hackensack has an amazing time.
Their event planning staff guarantees the best possible service, and are comfortable planning any event, no matter the size! Life O' The Party also delivers 24 hours a day, seven days a week in order to ensure your party items (balloons, centerpieces, et. al.) always arrive before the guests do. After all, there are so many things to keep in mind when throwing a party. Let Life O' The Party worry about the décor, entertainment, and venue, and you can worry about the guests.
Since 1980, Life O' The Party has been the area's go-to spot for any type of get-together. From Bar or Bat Mitzvahs and Christenings to corporate events and school dances, Life O' The Party is your one-stop shop for large-scale party and event planning. If necessary, they'll work with suppliers to provide your events with the proper party accessories, but full-scale event planning is what they do best.
Don't let fall get you down! Discover your back-to-school spirit with a unique event planned just for you by the area's party experts. Call (201) 342-2121 and get the party started with Life O' The Party today!