Ring in The New Year With a Memorable Party by Life O' The Party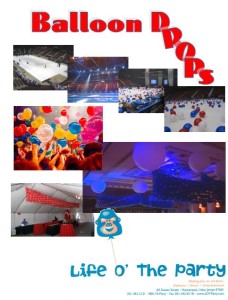 With New Year's Eve just around the corner, it's crunch time for party planning. Life O' The Party can tackle this task with style for a night not soon to be forgotten. As a provider of balloons, décor, and party entertainers, Life O' The Party serves individual and corporate clients of all sizes, with a clientele list that includes MTV, Chase Bank, Sony, IBM, and Exxon.
Here are a few options for your NYE bash:
Be Dramatic: When midnight hits, make a huge splash with a balloon drop from Life O' The Party. For an exciting and dramatic effect, balloons are hung from the ceiling in a giant bag. At midnight, pull the string for a beautiful spectacle.
Plan Ahead: Planning amazing parties is no simple task, but you don't have to do it alone. Life O' The Party has over 30 years of experience planning both corporate and social events and provides a full range of event planning services for parties of all sizes.
Choose a Theme: If you want your guests to have a memorable time, try a themed party with plenty of activities to keep guests occupied. A Casino Night theme is a popular choice for New Year's Eve, and Life O' The Party is fully licensed throughout the State of New Jersey to provide one.
Be Artistic: Give your guests something special to go home with. From henna tattoos to hair braiding, there are several options available, including body art, airbrushed art, caricatures and hand-painted favors.
Get Guests Dancing: What's a party without music? Life O' The Party can set you up with a DJ, lights, dancers and state-of-the-art equipment. A karaoke machine will also bring any party to life.
Make your party special this year. Visit Life O' The Party online or call (800) 74-PARTY for more information.