The Problem Solver: Resolve – Not Resolution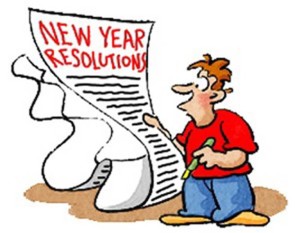 New Year, new decade, new century, new millennium – New New New!! It's not new, it's the same old same old. The problems and the concerns are still there, the people and the bills are still there and hopefully your business is still there. After all the hype has gone, the parties are over and all this new stuff sets in, the reality of maintaining and growing your business will take real resolve to continue forward. How well you deal with these issues are what will really count in the coming years.
The word resolve is an interesting one. Resolve can mean many things – change, purpose, determination, solve, will, decision, intention and finally, resolution.
Change – Change is good, change is inevitable, as of course nothing stays the same. But as you chart a course and resolve to stick to your changes you must be ready for rough waters, problems in getting used to a new you or new idea. You must resolve to weather the storms of change if you have plotted a wise course.
Purpose – As you aim your business in new directions, or stay the course of proven success, does your plan have a real sense of purpose? Will your actions, using either new or old ideas, lead you in a logical step by step journey to continued success? To succeed, one's aim most always be true. Propose to be the best and you might just be. A purposeful plan will lead you or help continue you on the road of greatness.
Determination – Being resolute in your plan for success will get you what you want. Being determined to achieve your goals, rather than just daydream about them, will help you be successful. Determination is the drive within you to be the best. Be determined to be the best you can be and the best of success will be yours.
Solve – Surely every business and every person on this planet has to solve problems each and every day. How we solve these problems makes a big difference in how we succeed or fail in our craft and in life. Are you solving your everyday problems correctly? Resolve to be wise, be careful and be quick to take care of all issues that cross your desk.
Will – Someone once told me a successful event I had planned from start to finish would not have come off if I had not been determined to make sure it would be successful. He thought I had practically willed this event to happen all by myself. I was flattered by what he said and had never really thought of this event (or any other for that matter) quite that way. Had I really made this event happen all by myself? Of course not. But what I had done is been determined and prepared to make this moment happen just as I had planned it. As a small business owner or manager, you too must have the will to make your plans and decisions solid foundations for auspicious business achievements.
Decision – The decisions you have made in the past, the one's you are making today, and the plans you are conceiving for tomorrow all have consequences you must live with each and every day. Are your decisions being conceived and implemented with the utmost care?
Intention – How many times have you thought – well, my intentions were good? If you think that quite often, that might mean you aren't succeeding enough, you just wanted to a whole lot! Don't intend to do good, just do good. It may be easier said than done, but you must be resolved to be prosperous.
Resolution – The conclusion, whether successful or not is how your ideas and decisions evolve. Your designs for prosperity are measured by how successfully you plan and implement everything you do in your business every single day. If your intentions are good, proper decisions are made, purposeful changes are implemented and you are determined to be a success, you probably will meet or even exceed your expectations for success.
Don't just make those idle New Year's resolutions, have the resolve to break with tradition and MAKE all your dreams for success come true.